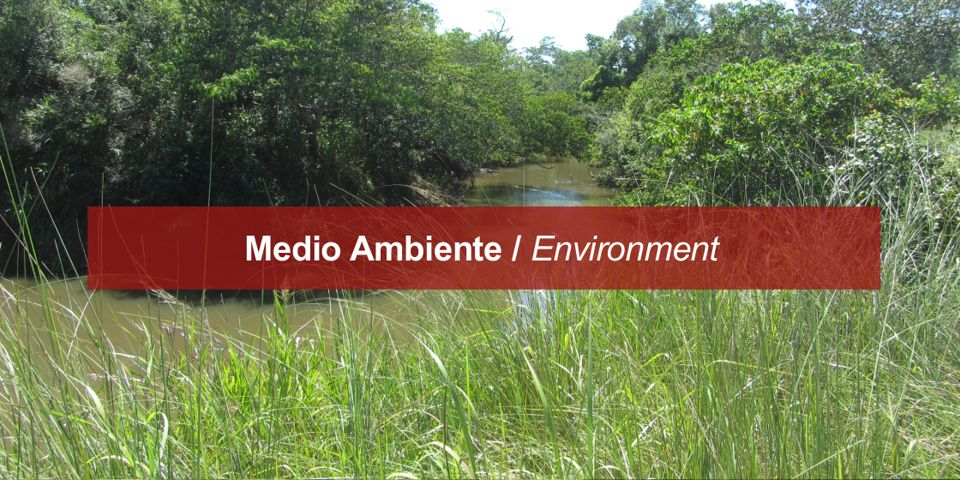 Paso 1: Elija una categoría
Step 1: Choose a category
Paso 2: Elija un proyecto
Step 2: Choose a project
Obras Contempladas en el Programa de Corredores de Occidente
Publicado el
Por Dpto. de Marketing
Servicio Prestado:
Ejecución del Plan de Gestión Ambiental.

Ente Contratante:
Ministerio de Obras Públicas y Comunicaciones.

Dirección del Ente Contratante:
Alberdi y Oliva - Asunción, Paraguay.

Naturaleza de los Trabajos y
Características Relevantes:
Ejecución de los programas propuestos en el Plan de Gestión Ambiental, destinados a revertir, atenuar o mitigar los efectos ambientales negativos, directos e indirectos del programa sobre el ambiente natural y social en las áreas de influencia directa e indirecta. El alcance comprende:

Programa de mitigación de Impactos Ambientales:
Medio Físico: Geología, Suelo e Hidrología.
Medio Biológico: Flora y Fauna
Medio Antrópico Antropológico

Programa de Apoyo a la Mitigación:
Apoyo a la actividad productiva de las colonias indígenas.
Componente arqueológico.

Programa de monitoreo ambiental:
Recursos hídricos
Flora y Fauna
Uso de los suelos y cobertura vegetal.

Programa de fortalecimiento de la Gestión Ambiental:
Fortalecimiento de la Unidad Ambiental del MOPC.
Fortalecimiento de las comunidades indígenas
Apoyo a las áreas de Conservación Natural.
Rescate de sitios arqueológicos e históricos.
Educación en la Gestión de Cargas Peligrosas.


Inicio: 12/2002
Finalización: 01/2006
Duración: 37 meses
Valor del Contrato: 812.513 US$

Observación:
con una participación del 40 % en el Consorcio de Gerenciamiento Ambiental
Works considered in the Western Corridor Program
Published on
by Dpto. de Marketing
Service Provided:
Implementation of te Environmental Management Plan.
Contracting Entity:
Ministry of Public Works and Communications.
Address of the Contracting Entity:
Alberdi y Oliva - Asunción, Paraguay.
Nature of Works and
Relevant Features:
Implementation of the proposed programs in the Environmental Management Plan, intended to reverse, minimize or mitigate the negative, direct and indirect environmental effects of the program on the natural and social environment in areas of direct and indirect influence. The scope includes:
Environmental Impact Mitigation Program:
Physical Media: Geology, Soil and Hydrology
Biological Medium: Flora and Fauna
Anthropic Anthropological Medium
Mitigation Support Program:
Support to the productive activity of the indigenous colonies
Archaeological component
Environmental monitoring program:
Water resources
Flora and fauna
Use of soils and vegetation cover
Environmental Management Strengthening Program:
Strengthening of the MOPC Environmental Unit.
Strengthening Indigenous Communities
Support to Natural Conservation areas.
Rescue of archaeological and historical sites.
Education in the Management of Dangerous Cargoes.
Start date: 12/2002
End date: 01/2006
Duration: 37 months
Contract Value: USD 812.513.-

Note:
With a participation of 40 % in the Environmental Management Consortium.