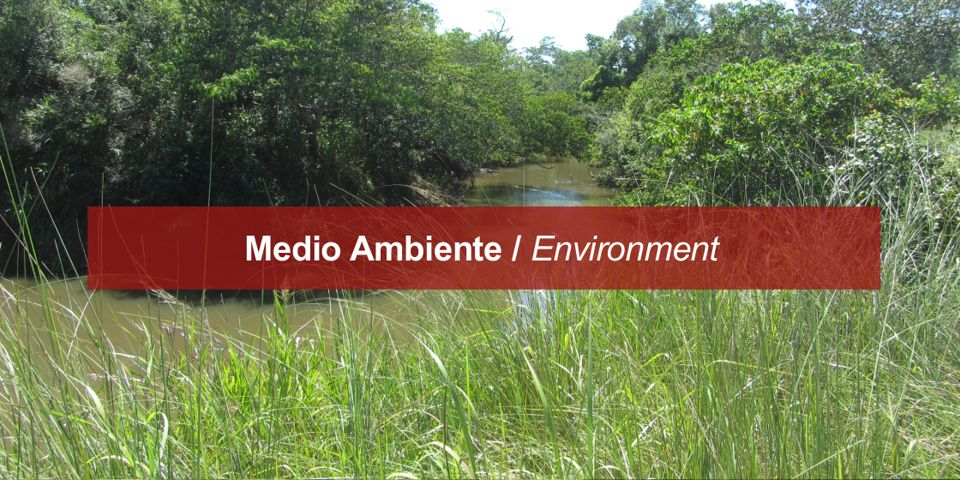 Paso 1: Elija una categoría
Step 1: Choose a category
Paso 2: Elija un proyecto
Step 2: Choose a project
Regulación y Aprovechamiento Múltiple de la Cuenca del Río Pilcomayo
Publicado el
Por Dpto. de Marketing
Servicio Prestado:
Estudios Ambientales y Técnicos.

Ente Contratante:
Ministerio de Obras Públicas y Comunicaciones.

Dirección del Ente Contratante:
Alberdi y Oliva - Asunción, Paraguay.

Naturaleza de los Trabajos y
Características Relevantes:
Evaluación del Impacto Ambiental de los programas anuales de intervención en la cuenca paraguaya del Río Pilcomayo llevados a cabo por la Comisión Nacional del Río Pilcomayo.
Realización de estudios de carácter topográfico, hidrológico, hidráulico, de suelo, de los procesos de sedimentación, de calidad de agua, de fauna, de flora, de evaluación del medio ambiente y del contexto socioeconómico. Digitalización de datos de la cuenca integrados en un Sistema de Información Geográfica (SIG). Relevamiento y carga de datos de variables sociales y económicas en el área de influencia del proyecto.
Diseño de un Plan Maestro de gestión, definiendo acciones a corto, mediano y largo plazos, para el manejo de la cuenca paraguaya del Pilcomayo.

Inicio: 03/2006
Finalización: 09/2007
Duración: 18 meses
Valor del Contrato: 5.363.475.196 Gs

Valor del Contrato equivalente
en dólares americanos:
922.500 US$ (tasa: 6.110 Gs/US$ - 09/02/06)

Observación:
como parte del Consorcio de Gestión y Monitoreo Ambiental (GMA) con una participación del 50 %
Regulation and Multiple Use of the Pilcomayo River Basin
Published on
by Dpto. de Marketing
Service Provided:
Environmental and Technical Studies

Contracting Entity:
Ministry of Public Works and Communications.
Address of the Contracting Entity:
Alberdi y Oliva - Asunción, Paraguay.
Nature of Works and
Relevant Features:
Evaluation of the Environmental Impact of the annual intervention programs in the Paraguayan basin of the Pilcomayo River carried out by the National Commission of the Pilcomayo River.
Studies of topographic, hydrological, hydraulic, soil, sedimentation processes, water quality, fauna, flora, environmental assessment and socio-economic context. Digitization of basin data integrated in a Geographic Information System (GIS). Survey and load of data of social and economic variables in the area of influence of the project.
Design of a Master Management Plan, defining short, medium and long term actions for the management of the Paraguayan basin of the Pilcomayo.
Start date: 03/2006
End date: 09/2007
Duration: 18 months
Contract Value: Gs.5.363.475.196.-

Contract Value equivalent to
US Dollars:
USD 922.500.- (Exchange rate: 6.110 Gs/US$ - 09/02/06)
Note:
As part of the Consortium GESTIÓN Y
MONITOREO AMBIENTAL (GMA) with a
Participation of 50 %