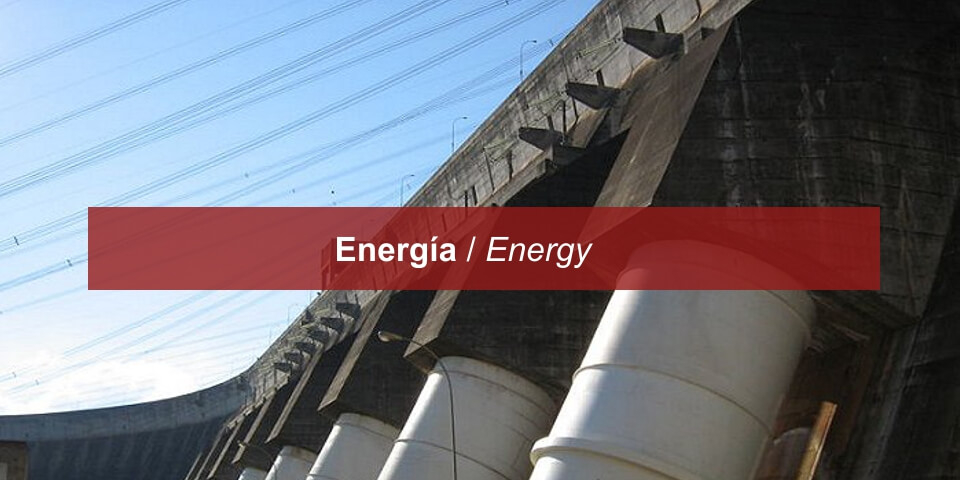 Paso 1: Elija una categoría
Step 1: Choose a category
Paso 2: Elija un proyecto
Step 2: Choose a project
Aprovechamiento Hidroeléctrico de Yacyretá
Publicado el
Por Dpto. de Marketing
Servicio Prestado:
Inspección en fábrica.

Ente Contratante:
Entidad Binacional Yacyretá (EBY).

Dirección del Ente Contratante:
General Díaz Nº 831. Asunción, Paraguay.

Contratista:
Harza y Consorciados, Consultores Internacionales de Yacyretá (CIDY) formado por Harza Engineering Company Internacional S.A.; Lahmeyer Internacional GMBH; el Consorcio Argentino de Yacyretá (COADY) y el consorcio de firmas paraguayas denominado Consorcio (ETIC).

Subcontratista:
Electroconsult del Paraguay S.A.

Naturaleza de los Trabajos y
Características Relevantes:
Apoyo técnico a la inspección en Fábrica del Equipamiento
Electromecánico fabricado en Paraguay.

Inicio: 01/08/1989
Finalización: 1996
Duración: 6 años
Hydroelectric Exploitation of Yacyretá
Published on
by Dpto. de Marketing
Service Provided:
Inspection in factory.
Contracting Entity:
Entidad Binacional Yacyretá (EBY).
Address of the Contracting Entity:
General Díaz Nº 831. Asunción, Paraguay.
Contractor:
Harza y Consorciados, Consultores Internacionales de Yacyretá (CIDY) formed by Harza Engineering Company Internacional S.A.; Lahmeyer Internacional GMBH; the Argentinean Consortium Yacyretá (COADY) and the consortium of Paraguayan companies named Consortium (ETIC).
Sub-contractor:
Electroconsult del Paraguay S.A.
Nature of the Work and Relevant features:
Technical Support for the Factory inspection of the Electro-mechanical Equipment manufactured in Paraguay.
Start date: August 1st, 1989.
End date: 1996.
Duration: 6 years.